Bus Stop Improvements
Background
In 2018, Mountain Line obtained a $2.7 million federal Bus and Bus Facilities grant to implement the first three phases of its Bus Stop Master Plan. The plan includes updating the signage at every bus stop in the district and upgrading the passenger amenities at bus stops serving Routes 1 and 2.
Project Goals
Mountain Line will add passenger amenities at the most highly used bus stops in the system and will change the location of some bus stops throughout Missoula to meet the following goals:
IMPROVE SAFETY.
Moving bus stops to the far-side of intersections reduces vehicle-pedestrian conflicts and improves safety for all road users. Today, many bus stops in Missoula are located upstream of a pedestrian crosswalk or trail crossing, which often causes a bus to obscure the visibility of people using the crossing.
INCREASE ACCESSIBILITY.
Moving bus stops to locations where on-street parking is prohibited and where it's feasible to install a level landing area improves the overall accessibility of our transit system for all users. A smooth and level surface of sufficient width and depth is needed to safely load and unload passengers who use a wheelchair or have other mobility impairments.
MAXIMIZE SERVICE EFFICIENCY.
As Mountain Line's ridership continues to grow, buses are stopping more often at established bus stops, which can lengthen the amount of time it takes for a bus to complete a route. Consolidating under-utilized bus stops helps keep our buses running on time, leverages amenity investments to reach more people, and minimizes impacts to on-street parking.
Bus Stop Improvements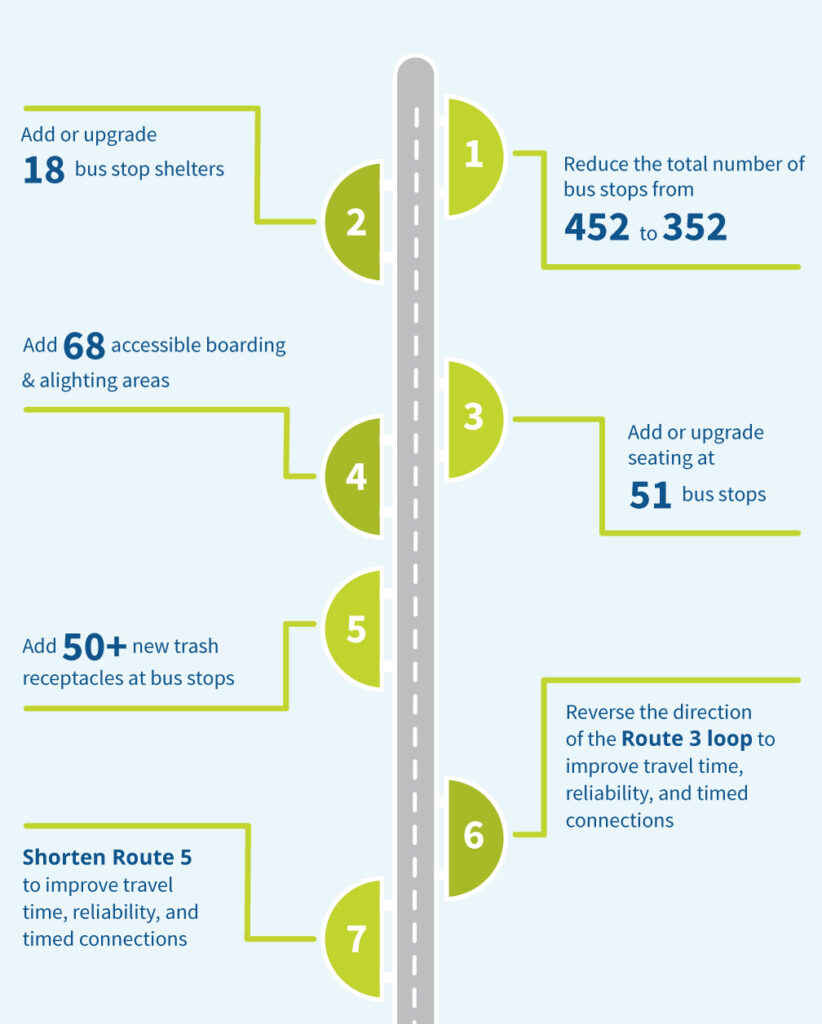 Timeline
This project began in 2012, when the Missoula Urban Transportation District (MUTD) Board of Directors, the governing body of Mountain Line, approved the Long Range Transit Plan. This plan formalized Mountain Line's goals to expand our system efficiently and to put passengers first by making transit easy, safe, accessible and comfortable.
Since the process began eight years ago, our plan has evolved thanks to robust public input and the continued improvements Mountain Line has made to its system along the way.
Now, it's time to begin Phase I of construction! Changes to bus stop locations and the addition of new amenities will begin in July of 2020.
Phase I of the project will impact stops on our BOLT! Routes 1 and 2. We will be consolidating bus stops to improve efficiency, safety and accessibility, and we'll be adding more comfortable infrastructure for riders waiting along the line. We will also be updating our signage!
Phase II construction will begin in the spring of 2022. This second half of the project will apply all signage updates from Phase I to our remaining routes. We will also be consolidating bus stops to improve efficiency, safety and accessibility.
We aim to have the Bus Stop Improvement Project completed by the summer of 2022.
Timeline