There are several ways to plan your trip, explained below. If you need further trip-planning assistance, please call the Mountain Line Customer Service Line at (406) 721-3333. Personal trip-planning assistance is available Monday through Friday, 7:00 AM to 5:00 PM.
Mobile app
Download the Transit app to access route schedules and maps, and to track bus locations in real time. Find helpful tips on using the Transit app here.
Bus Tracker
See all buses and routes in real time using our Bus Tracker! Linked on our homepage, you can customize your view to see only those routes that apply to you – or you can choose to see them all.
Click on any bus stop to see when the next bus will arrive, or click through to the weekday schedule.
You can also plan your trip in the Bus Tracker by entering your starting and ending locations to see all possible trip options, with step-by-step directions.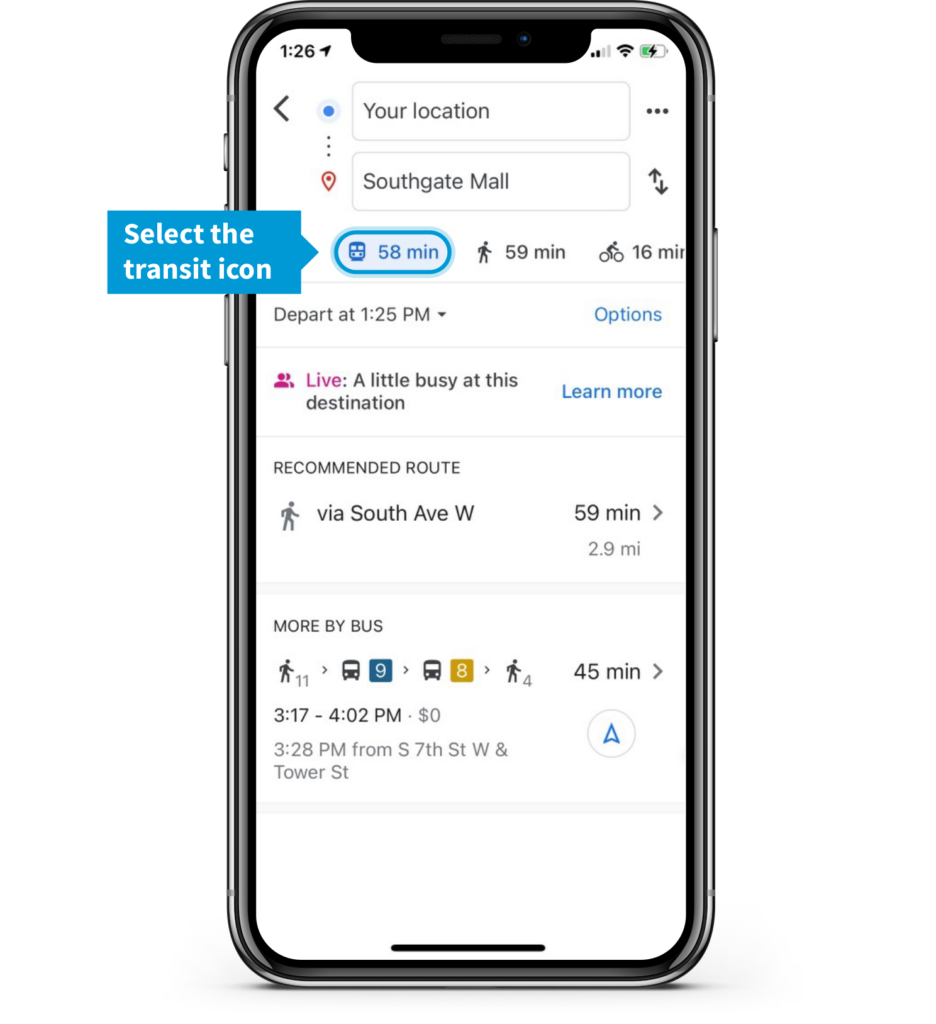 Google Trip Planner
Our online trip planner is powered by Google Transit. Using this planner, you can enter where you are and where you want to go, then Google will build an efficient, step-by-step itinerary for your trip!
If you are planning your bus route on your mobile phone, enter your starting and ending location, and make sure to select the transit icon for your mode of travel.
To use the planner, click here.
Terms & Conditions of use
By using Google Trip Planner you agree you have read and accepted the following:

Mountain Line strives to provide the best information possible for Google Transit, but cannot guarantee absolute accuracy. Mountain Line recommends riders double check their trip itinerary by viewing the published bus maps and schedules here, or by calling the Mountain Line office at (406) 721-3333. In addition, please read the Google Transit Terms and Conditions.

I received incorrect information:

If your Google Trip itinerary has inaccurate stop locations, times, fares, or service information, it's likely due to dated information that needs to be updated between Mountain Line and Google Transit. Please record the origin, destination and arrival/departure date and time for your itinerary and send an email with this information to google.transit@montanatransit.com. Through your feedback, we can make this service even better for everyone!

Other considerations:

Some routes may be drawn as straight lines from stop to stop, and do not follow the actual route of the bus on the roads.

The trip planner will provide two or three suggested trip plans. We recommend you always check these alternative trip plans as they may provide a trip that better meets your needs.
Walking directions and times may be inaccurate, sometimes suggesting walking across unpassable obstacles. Google is working to improve walking directions.
Using a Route Map
You can find route maps and schedules here. To use these tools to plan your trip, follow these instructions.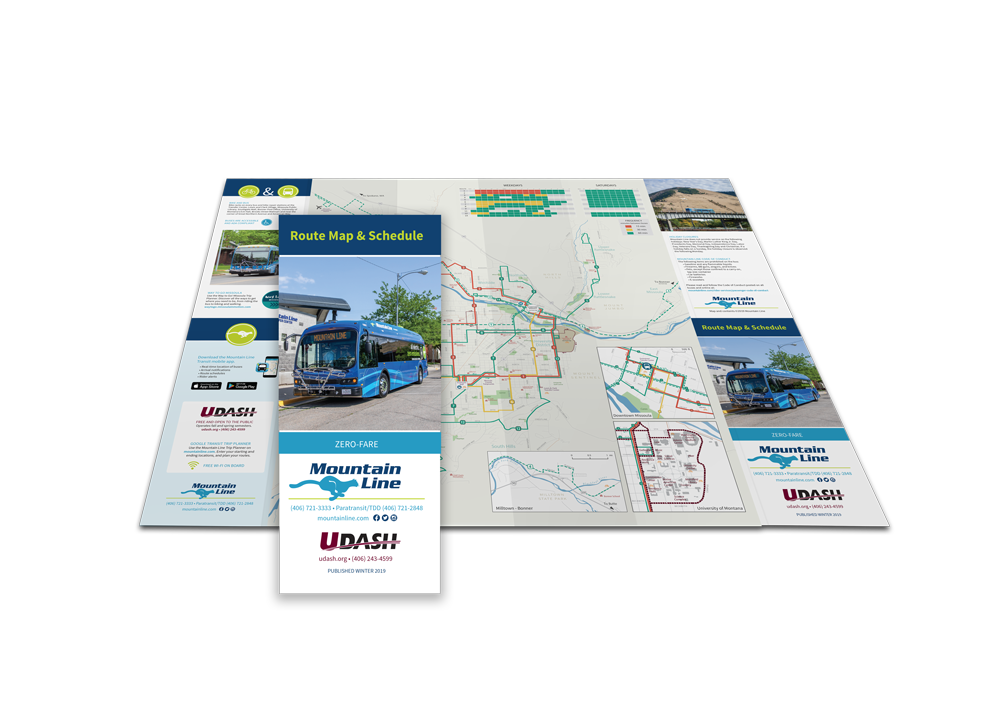 Find the route and time point closest to your departure point.
Find the route and time point nearest your destination.
Determine if you need to transfer routes. If you need to transfer and the arrival of your bus/ departure of the bus you are wanting to transfer to overlap, request a transfer from your current driver to ensure you don't miss the connection.
Determine which direction you need to go. Schedules are broken into trips heading Outbound from Downtown and Inbound to Downtown.
Be sure to leave enough time to arrive at your stop a few minutes early.