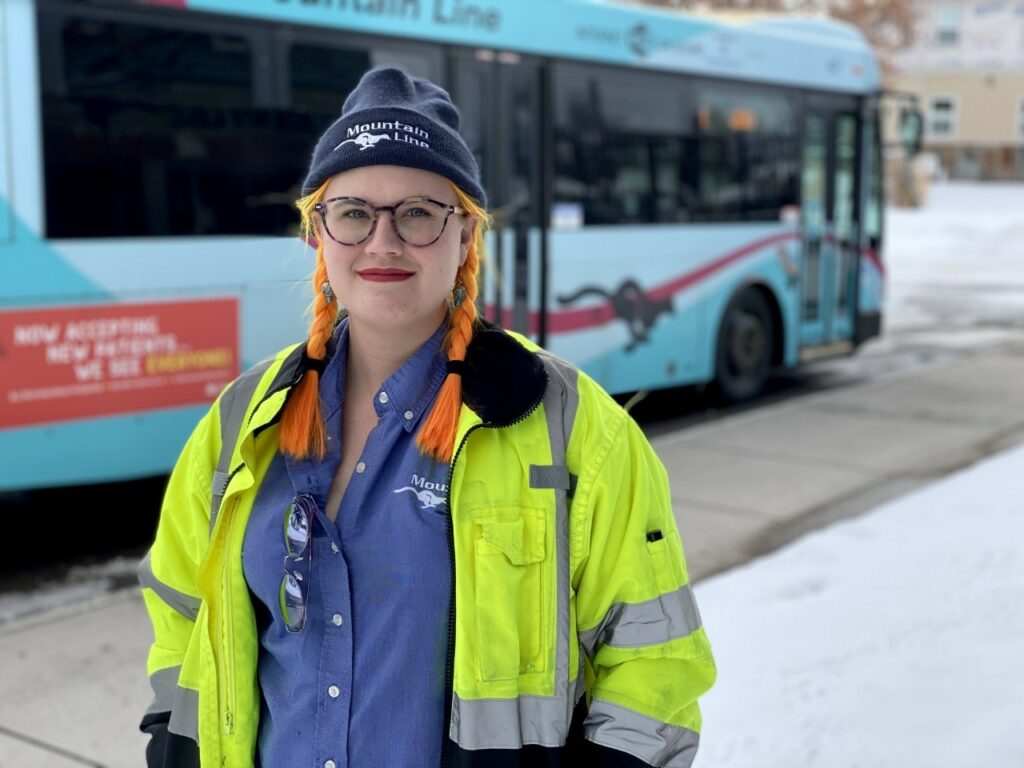 Above: Mountain Line Bus Operator Holly Wirtz. Wirtz previously worked as a bus operator for ASUM Transportation while earning her degree in theater from the University of Montana. Writz joined the Mountain Line team in July 2017 after graduation. When asked what her favorite part of the job is, Wirtz says greeting and thanking her passengers: "I have a mindset that you never know if your greeting or farewell is the one thing that could help turn someone's day around," Wirtz said. "So I do my best to be friendly and kind." 
MISSOULA – Mayor John Engen proclaimed March 18, 2021, as Transit Operator Appreciation Day during City Council Monday night.
The proclamation honors Mountain Line and ASUM Transportation bus operators as essential workers and recognizes their vital work in helping Missoulians and University of Montana students get to work, school, medical appointments, the grocery store and other important locations during the unprecedented challenges of the past year.  
"Public transit operators frequently go above and beyond the call of duty, working long hours and safely operating our transit system in rain, snow, extreme cold, wind and during a global pandemic," Mayor Engen read from the proclamation on Monday night.
Mountain Line CEO and General Manager Corey Aldridge said it was around this time last year that many Missoula residents were packing up their offices in preparation of sheltering at home.
"When so many were heading home, our operations team was moving against the tide, showing up each day with the conviction that the service they provide is absolutely essential to this community," said Aldridge.
Even during the height of Montana's stay-at-home order, Mountain Line continued to serve the community, bringing health care professionals to the frontlines, connecting essential workers to their jobs, and ensuring everyone had reliable, accessible transportation to grocery stores, medical appointments and other essential services.
"Reliable, accessible public transportation is vital for a healthy community," said Aldridge. "Mountain Line could not provide service that benefits us all without the dedication of our maintenance technicians, service team, dispatchers, supervisors and, of course, the face of our agency, our bus operators."
Jonathan Karlen, chair of the ASUM Transportation Board, which oversees UDASH service to the University of Montana, said the proclamation was an important and meaningful way to honor the frontline service provided by bus operators in both normal and challenging times.
"While the pandemic created unprecedented challenges for students, transit operators never ceased working, making it possible for students to travel between class, work, home, shopping, and recreation, safely and efficiently," Karlen said. "For many students, UDASH and Mountain Line made it possible for them to continue their education."
While ridership fell significantly over the past year for both agencies as workers telecommuted, students transitioned to online learning, and non-essential travel was discouraged, bus operators continued to serve thousands of people each week. And ridership has continued to rise over the months.
"The journey to a full recovery, for us and our community, will be a long one, but we have seen ridership across both systems steadily increase since last April," said Karlen, a UM senior studying Wildlife Biology. "I have no doubt that public transportation will play a critical role in Missoula's recovery from COVID-19."
Aldridge agreed, stating that access to reliable public transportation will be key in moving Missoula forward toward a more equitable, sustainable future.
"Zero-fare public transportation increases access to vaccines, provides economic relief to workers, and offers a pathway to a more sustainable, heathier community as we reopen," Aldridge said. "However, none of these benefits to our community would be possible without the hardworking individuals who show up each day to provide that service, our bus operators."
To honor Missoula's Transit Bus Operators, members of the public are invited to share their gratitude by visiting mountainline.com/thanks-operations-team or by engaging with either agency on social media:
Facebook: @MountainLineTransit and @umtransportation.
###
In 2020, Mountain Line committed to a zero-tailpipe-emissions fleet by 2035. This commitment solidified Mountain Line's long-standing commitment to clean air, public health and a more sustainable future. Mountain Line became a zero-fare system in 2015, made possible through partnerships with local government, businesses and nonprofits. Since the debut of Zero-Fare, ridership has increased 70 percent. During normal times, Mountain Line provides more than 1.5 million rides annually, helping students get to school, employees get to work, and helping seniors and people with disabilities stay active, mobile and independent. By reducing the number of single vehicles on the road, lessening traffic congestion and investing in electric buses, Mountain Line benefits us all.
The Associated Students of the University of Montana (ASUM) provide services to enhance the student experience, advocate for the rights of all University of Montana (UM) students as a unified body and build a system of trust and transparency among students, faculty and staff. ASUM's Office of Transportation operates the UDASH transit system—one of the only student-run public transportation systems in the country. Through student government and employment opportunities, ASUM helps train the next generation of transit professionals.