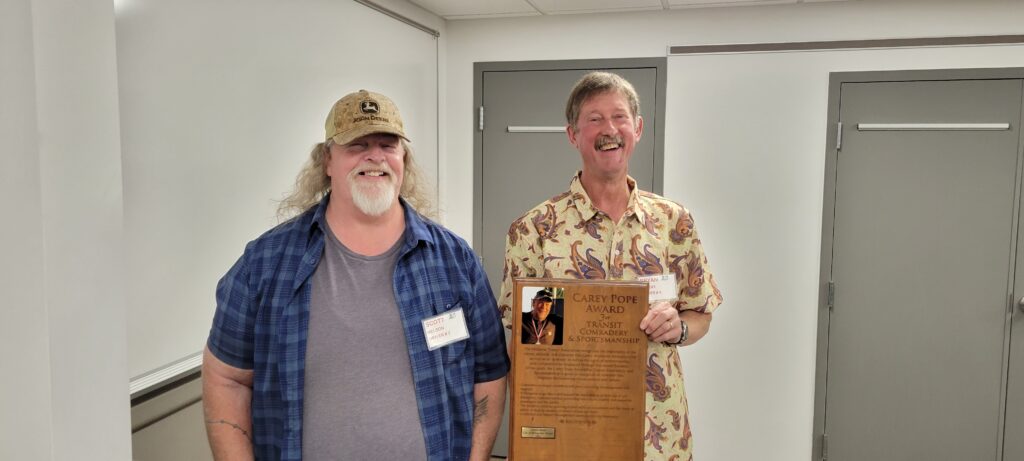 MISSOULA, Mont.— Bryan Ursery has been providing safe, reliable service to Missoulians as a Mountain Line bus operator for 23 years. His safety record is equally long, having never had a preventable accident in all that time. Ursery's dedication to his field, his outstanding customer service to his riders, and his encouragement of his peers earned him the Carey Pope Award, equivalent to a lifetime achievement, bestowed by the Montana Transit Association at their annual conference last week.
"Bryan always goes above and beyond to make riders, coworkers, and community members feel welcomed and valued," said Jennifer Sweten, Director of Operations. "He remembers the smallest details shared about your life and asks follow-up questions months later when you board his bus or pass him in the hall. He is respected by peers and loved by riders."
Ursery has also won multiple internal agency awards for his dedication to his position since starting with Mountain Line in 1999. At the agency level, Ursery has won "Operations Employee of the Year" four times; "Perfect Attendance" seven times; and "Outstanding Customer Service" three times.
He also continues to prioritize honing his own skills as an operator and has been a frequent competitor in the Bus Roadeo, a state and national event that pits bus operators from different agencies against each other in a safety-based obstacle course. Ursery has won the Montana statewide Roadeo Division I title six times ('00, '04, '07, '11, '14, '19) and took first place in the American Public Transportation Association's national Customer Service Challenge at the International Bus Roadeo in Memphis, Tennessee in 2011.
"Bryan is an exemplary employee and bus operator, one we are lucky to have on our team," said Sweten. "He is humble, invested in his transit family, and well deserving of this award."
###
Mountain Line launched seven-day and seven-night service in July 2022, putting 30% more service on the road. The agency was named the top public transit agency in North America in its size in 2021, earning the American Public Transportation Association Outstanding Public Transportation System Achievement Award. Mountain Line also won the Montana Transit Association statewide safety award in 2021. Committed to a zero-tailpipe-emissions fleet by 2035, Mountain Line has a long-standing commitment to clean air, public health and a more sustainable future. Since becoming a zero-fare system in 2015, ridership has increased nearly 70 percent, to average more than 1.5 million rides annually, pre-pandemic. Mountain Line helps students get to school, employees get to work, and seniors and those living with disabilities stay active, mobile and independent. By reducing the number of single vehicles on the road, lessening traffic congestion and investing in electric buses, Mountain Line benefits us all.