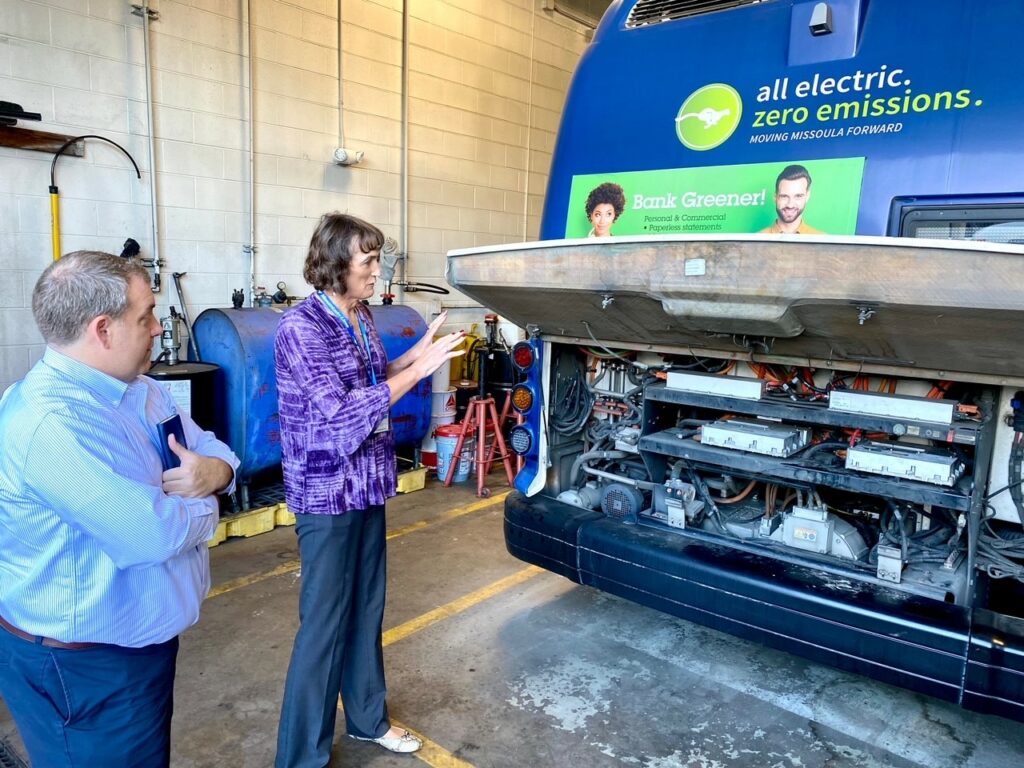 MISSOULA, Mont.— Mountain Line welcomed Tim VanReken, a Legislative Fellow with U.S. Senator Jon Tester's Office (D-MT), for a facility tour Thursday. VanReken spent the morning reviewing Mountain Line's electrification efforts and learning about the agency's plans to convert to a zero-tailpipe-emissions fleet by 2035.
"We've learned a lot in the last three years about charging infrastructure, battery capacity, and the mechanics of maintaining an electric fleet," said Jennifer Sweten, Director of Operations at Mountain Line. "We're sharing what we've learned with officials and other transit agencies to demonstrate the value of federal support and to help other agencies transition as quickly and efficiently as possible."
Mountain Line was awarded a $10 million Low or No Emissions grant from the Federal Transit Administration on August 16, which will allow the agency to purchase 10 new battery-electric buses and bring its fleet to 90% electric by the end of the decade. The Low or No Emissions Grant Program received a $1.05 billion increase in funding as a direct result of Tester's bipartisan Infrastructure Investment and Jobs Act; both Tester and U.S. Senator Steve Daines (R-MT) provided bi-partisan support for Mountain Line's most recent grant application. Two other Montana agencies also received FTA funding for bus infrastructure improvements.
"Every day, folks in the Treasure State rely on public transit to commute to work, get their kids to school, shop at their local businesses, and enjoy all that Big Sky Country has to offer," Tester said in an email to Mountain Line staff preceding VanReken's visit. "This funding for upgrading buses and bus stations across Montana will pay dividends for working families, small businesses, and our climate. I'm proud to have secured cutting-edge investments like this one that will modernize Montana's transit infrastructure and power our local economies for years to come."
###
Mountain Line launched seven-day and seven-night service in July 2022, putting 30% more service on the road. The agency was named the top public transit agency in North America in its size in 2021, earning the American Public Transportation Association Outstanding Public Transportation System Achievement Award. Mountain Line  also won the Montana Transit Association statewide safety award in 2021. Committed to a zero-tailpipe-emissions fleet by 2035, Mountain Line has a long-standing commitment to clean air, public health and a more sustainable future. Since becoming a zero-fare system in 2015, ridership has increased nearly 70 percent, to average more than 1.5 million rides annually, pre-pandemic. Mountain Line helps students get to school, employees get to work, and seniors and those living with disabilities stay active, mobile and independent. By reducing the number of single vehicles on the road, lessening traffic congestion and investing in electric buses, Mountain Line benefits us all.