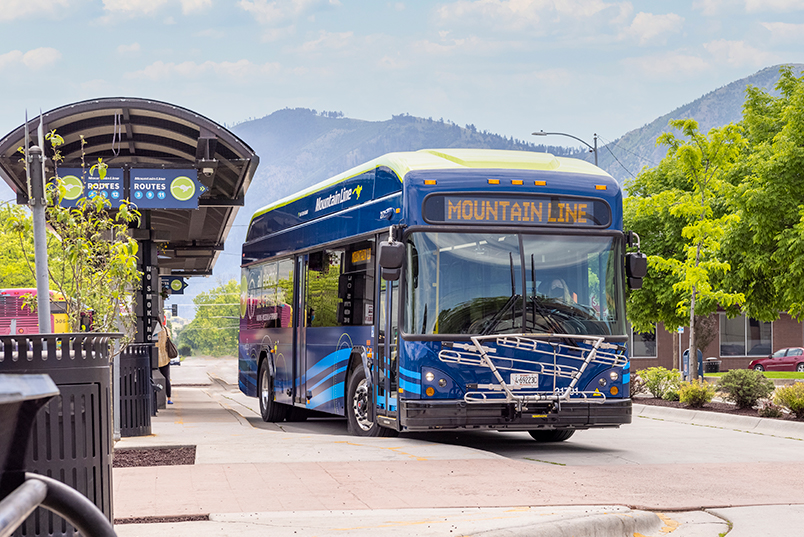 MISSOULA – Mountain Line was awarded the 2020 Outstanding Safety Record Award for its exemplary commitment to safety by the Montana Transit Association last Thursday. This award is given to a Montana transportation provider or system with the lowest number of preventable accidents per 100,000 revenue miles. Mountain Line had only two preventable accidents in over 833,900 revenue miles in calendar year 2020.
"I'm very proud of our team's continued commitment to safety," said Mountain Line CEO and General Manager Corey Aldridge. "While this award focuses on preventable accidents, and that statistic is important, there is a lot more that goes into ensuring systemwide safety and getting us to this point."
To start, Mountain Line requires all bus operators go through a robust training program before transporting riders. The multi-week training program consists of both classroom and behind-the-wheel training – including safety scenario reenactments, training to safely board and secure riders using mobility devices, and how to keep themselves safe while driving – to ensure the highest level of safety and service.
"At Mountain Line, safety is our top priority, extending beyond the road to customer service, accessibility and employee health," said Aldridge. "We've made great improvements over the past three years to further improve safety for all public transportation users."
Since 2018, Mountain Line has worked to equip 100% of its fleet with onboard audio and video recording capabilities and provided body cameras to supervisors to bring a higher level of safety and accountability to the system for both riders and employees.
Last year, Mountain Line approved and adopted its Public Transportation Agency Safety Plan ahead of federal deadlines and is now in the implementation stages of that plan. It also launched a new Safety Management System focused on enhanced safety training for all staff, and expanded its Safety Committee to include additional representatives from all agency departments. The agency also implemented new safety measures in response to its transition to a zero-tailpipe-emissions fleet.
"With our transition to an electric fleet, we've debuted new training initiatives focused on electrical safety," said Aldridge. "This includes a high-voltage safety program and specialized training for maintenance technicians working on our electric buses."
To further improve safety for all road users, Mountain Line launched the largest project the agency has ever undertaken, the Bus Stop Improvement Project, in 2020. This project, currently in the construction phase, will impact every bus stop within the district and has three goals: improve safety, increase accessibility and maximize service efficiency.
In addition to adding 68 more accessible boarding and alighting areas and new tactile poles to distinguish bus stops by feel, some stops are being moved to the far side of intersections to reduce vehicle-pedestrian conflicts and improve safety for all road users. The project is expected to conclude early next year.
"I'm very proud of our accomplishments and improvements across all departments," said Aldridge. "The Mountain Line team takes a holistic approach to safety, which benefits us all."
###
In 2020, Mountain Line committed to a zero-tailpipe-emissions fleet by 2035. This action solidified Mountain Line's long-standing commitment to clean air, public health and a more sustainable future. Mountain Line became a zero-fare system in 2015, made possible through partnerships with local government, businesses and nonprofits. Since the debut of Zero-Fare, ridership has increased almost 70 percent. During normal times, Mountain Line provides more than 1.5 million rides annually, helping students get to school, employees get to work, and helping seniors and people living with disabilities stay active, mobile and independent. By reducing the number of single vehicles on the road, lessening traffic congestion and investing in electric buses, Mountain Line benefits us all.