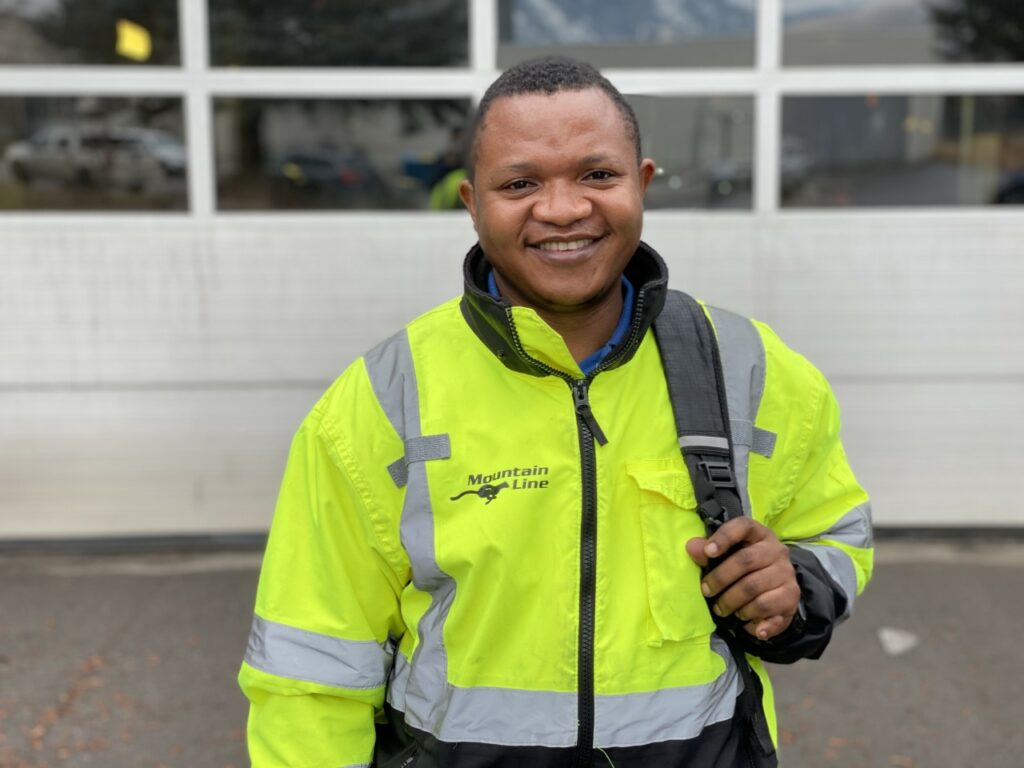 MISSOULA – Justin Kasali, a Congolese refugee who settled in Missoula in 2018, had only been driving a motorized vehicle for a year before deciding to apply for a bus operator position with Mountain Line, Missoula's public transportation agency, in 2019. Twelve months later, he was honored by the agency as its 2020 Rookie of the Year. 
The Rookie of the Year award honors an employee who has been with the agency for less than two years who has gone above and beyond in work performance, customer service and safety.
"Justin is one of our most resilient employees at Mountain Line and is absolutely loved by his peers," said Mountain Line Director of Operations, Jennifer Sweten. "He is someone who embraces every task, truly giving it his all, even if it's us asking him to dress up as our six-foot-tall Mountain Line mascot, Bolt."
While Kasali's commitment to his work and his riders naturally lent itself to the status of Rookie of the Year, getting to this point was an arduous process, and one that almost didn't happen.
Kasali first arrived in Missoula in September of 2018, after spending 12 years in a refugee camp in Malawi. He had fled his home country of the Democratic Republic of the Congo in his early twenties.
When his journey finally led him to Montana, Kasali and his family were welcomed by the team at the International Rescue Committee (IRC).
"We were so honored to resettle Justin and his family in Missoula," said Kit Stebbins, the Acting Resettlement Manager with the IRC. "We can't believe it was only two and a half years ago when the International Rescue Committee staff picked up the family from the airport and assisted them in moving into their first apartment in their new community."
When his Employment Specialist from the IRC first called about the bus operator position with Mountain Line, Kasali declined the opportunity to apply, knowing the language barrier would make getting his Commercial Driver's License (CDL) difficult.
But, with the support of his wife and encouragement from his Employment Specialist, Kasali decided, "Let's go and try."
Getting a CDL is a rigorous process, involving both a driving test and a comprehensive written exam — in English only — without the option to have a translator. After two failed attempts of the written portion of the exam, Kasali began to feel he was wasting the agency's time. But Mountain supervisors were confident Kasali knew the material, and believed with a bit more time studying the English terms, he would pass. With their encouragement, Kasali gave the complicated written exam one more shot.
"I spent all of my nighttime reading and studying," Kasali said. "By the grace of God, I [got] my exams in and passed my reading test, which was very hard for me."
With the CDL exams behind him, Kasali completed his final weeks of on-the-road training and earned his badge as a solo operator, meaning he was now ready to drive on his own.
"We put our operators through an intense training process, and I've seen many native-English speakers walk away after their first week," said Sweten. "But Justin never gave up. Everyone in our agency was rooting for him and it was like graduation the day after he soloed."
Now, with over a year of experience at Mountain Line, Kasali laughs and says he has become an expert driver.
"Myself today, I can tell someone when he is driving: 'You are driving wrongly, or correctly, right now.' because I know the rules," he said.
Beyond his skills as a driver, an unexpected outcome of working for Mountain Line is that Kasali has become a resource for other refugees trying to navigate Missoula. He feels he knows the city, even East Missoula, far better than even those refugees who arrived before him.
People will call Kasali and tell him where they need to go and he will tell them which buses to take to get there.
"My wife is always asking me, 'Why do you know these places?'," Kasali said, and he answers, "Because I am a driver."
Now, at 38 years old, he and his young family feel settled in Missoula among a growing population of other refugees. But there are still challenges he and his community face. According to Kasali, several in the refugee community struggle with the cost of living in Missoula, especially the ability to pay rent, with the lower-wage jobs many settle into.
"I feel comfortable to pay my rent right now because of Mountain Line," Kasali said. "That's why I love Missoula and I can stay in Missoula."
Kasali said he would recommend working at Mountain Line to other people, but they should know that getting a CDL is very difficult, especially if English is not a person's first language. And, he said, there are a lot of rules.
"It's not everybody who can understand these rules, and then make sure he follows these rules," Kasali said. "It's [a] good company, but you have to follow the rules."
Kasali's willingness to not only learn and follow the rules, but to understand why they are important for safety and service, made him a natural choice for the 2020 Rookie of the Year.
"Justin is dedicated to serving Mountain Line's riders," Sweten said. "We know we can count on him to provide safe service, to be sincere in his interactions and to ask for help when he needs it."
For Stebbins, reviewing Kasali's journey and progress over the past two years has been rewarding.
"It has been a pleasure to work alongside Justin and his family as they have integrated into Missoula," said Stebbins. "We are proud to see him as a valued member of the community working as an essential worker and an asset to the refugee community."
For his part, Kasali says he will continue to try his best and wants to keep learning and growing.
"Becoming Rookie of the Year, I think that was my talent that God has given to me," Kasali said. "I did it because I love my job. I can do more because I love my job."
When asked what keeps him going, even when things are hard or he makes a mistake, it's Kasali's philosophy that a person must actively seek out the challenges in life, rather than passively waiting to see what will happen.
"Go yourself to try to challenge life …" Kasali said. "And then you will succeed."
###
Mountain Line: In 2020, Mountain Line committed to a zero-tailpipe-emissions fleet by 2035. This commitment solidified Mountain Line's long-standing commitment to clean air, public health and a more sustainable future. Mountain Line became a Zero-fare system in 2015, made possible through partnerships with local government, businesses and nonprofits. Since the debut of Zero-fare, ridership has increased 70 percent. Mountain Line now provides more than 1.5 million rides annually, helping students get to school, employees get to work, and helping seniors and people with disabilities stay active, mobile and independent. By reducing the number of single vehicles on the road, lessening traffic congestion and investing in electric buses, Mountain Line benefits us all.
International Rescue Committee: As Montana's only refugee resettlement agency, the IRC in Missoula meets basic and immediate needs for refugees, asylees, victims of human trafficking, survivors of torture and other immigrants so they can thrive in America. These individuals have survived against incredible odds. Through our work, we build support systems, encourage self-sufficiency, and facilitate refugees' integration into the Missoula community. Case management, housing assistance, and employment services are provided for all clients. The IRC in Missoula also trains and supervises volunteer mentors who provide support and guidance to recently arrived refugee families. The IRC in Missoula helps the world's most vulnerable to rebuild their lives.